Resorts ≡ Austria
St. Jakob im Defereggental
This small resort is an excellent destination for family vacation.
Located some 40 km from the town of Lienz, this small Austrian resort is a great place for families. It is easily accessible by following the main road to Tyrolean resorts, which passes through the town of Lienz.
The Defereggental valley was in the past a mining area inhabiting residents that came from various regions, but most of them were the Celts and the South Slavs. As the mining resources had exhausted, people turned to other forms of profit and survival; first they engaged in trade, which was over time replaced by tourism. Owing to beautiful landscapes, picturesque villages and unspoiled nature, the Defereggental valley has developed both winter and summer tourism.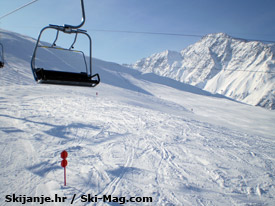 There are three villages in the valley: Hopfgarten, St. Veit, and the largest, St. Jakob. Each of them possesses unique charms. The village of Hopfgarten, a place undiscovered by traditional tourists, is ideal for walking and enjoying the Tyrolean landscape. The village of St. Veit is the highest tourist village in Austria, whose preserved and intact buildings, and wooden farms date back in the past. The village of St. Jacob is the largest and most popular, with its indigenous architecture and monuments, and its service designed to meet the needs of winter sports enthusiasts. The valley is surrounded by more than fifty peaks higher than 3000 m. There is no need mentioning that it is a declared national park. As such, it is under strict rules serving to preserve nature.
The resort spans from 1400 - 2500 meters of altitude. It has 27 km of ski trails, 9 of which are classified as blue, 16 km are red, and there are 3 km of black trails. Also, some parts of the resort will thrill the freeriders. The ski lift system consists of a 6 person gondola taking off from the village of St. Jakob, two seater lifts, and five anchor lifts. There is a special area for beginners, covered by a small surface lift. The ski lifts capacity is approximately 12 000 skiers per hour which ensures there is no overcrowding even in high season. Freestylers and snowboarders have at their disposal well equipped snowpark with numerous elements. For cross country skiing lovers there are 70 km of trails, 2 km of which are illuminated. If you don't know how to ski and snowboard, don't worry; there are two ski schools where you can learn both. Also, you can take classes in cross country skiing.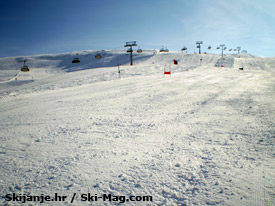 There are plenty of choices for spending your time after skiing. On this resort you will find indoor halls for badminton, tennis, golf, football, and basketball. Also, you can do bowling, relax in some of the pools or wellness centers. This offer is spiced up with restaurants serving Tyrolean cuisine. If you don't feel like skiing, you can do ice climbing, kiting, horse riding, or snowshoeing, enjoying pristine and wild nature along the way.
Considering the fact this is a family resort, the opportunities for night life are not many. Apart from fun in some of the sports halls, or night cross country skiing, you can have a drink at a bar, but there are no night clubs. However, you will definitely enjoy a visit to the small "gasthof" hut at the edge of the resort. The hut, furnished in an appropriate simple manner is reachable by a ski-doo. There, you can taste delicious domestic food and drink. Your way back is provided by using simple wooden sleigh on which you descent back to the village. The way back is, however, 6 km long, and the trail is only partly lit, so if you're not into adventure, you can use a ski-doo for your way back as well.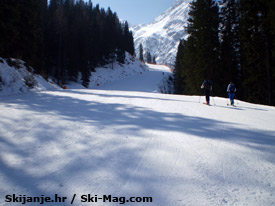 St. Jakob im Deferegental is a typical Austrian village in which everything is designed to please the tourists. You won't be sorry for spending your winter holidays in this part of eastern Tyrol.
February 27, 2009 16:49h

Author: Tomislav Matošin

The latest on Ski-mag.com

©
Ski-Mag.com
2003-2014.
ISSN 1845-5891
e-mail:
info@ski-mag.com
Publisher: Ski Club
Hupser
Site by:
Info izlog Ltd.
Number of visits:
57769559
All Rights Reserved. The data is obtained from sources believed to be reliable, but the editors do not guarantee its accuracy, nor they consider themselves responsible for any damages caused by the content on this site.
More...