Equipment ≡ Skis
Rossignol Radical 9S WC (08/09)
Completely new Rossignol's slalom model is enriched with new technological solutions and has completely different geometry.
Tested model: 165 cm, r = 11 m
Sidecut: 124-70-112
Sizes: 155, 165, 175 cm

This season Rossignol has launched completely new slalom model. The first thing you'll notice about it is the change in the design - freshened up colors and new outer material. As already mentioned in the review for giant slalom model, almost the most radical change is the ski's sidecut. For this season, the sidecut is 124-70-112, which is pretty much wider, compared to the last year's model (118-67-104) and other producers' models.
Accordingly, the ski acts quite different. With new widths, the radius shrunk for a meter, and is now 11 m for 165 cm long ski. This is a very important fact. With this slalom model, Rossignol made a great step forward, and now places among the producers with the smallest radius in slalom class. Also, one of the novelties are available sizes - from this season, you can choose between only three; 155, 165 and 175 cm. It all leads to one conclusion. Rossignol produced much more serious ski, more and more resembling to those for the FIS competitions.
As for the implemented technologies, Rossignol stopped using IPS race technology for 9s model; present solutions are presented under the name "Race Technology". Also, there is rectangular sandwich structure with vertical sidewall.
Rossignol continues to implement the VAS technology (vibration absorbing system), with its special materials providing for better stability and vibrations absorption. Apart from the mentioned, the TPI2 technology provides for integrated binding system, with better elasticity of the link, improving thus ski's better adaption to the surface. These novelties contributed to ski's enhanced performance, which is the most important thing for most skiers.
As suggested by its class, this ski is intended for excellent skiers - accordingly, it is very demanding and heavy. Short slalom turns, which 9s is primarily intended for, are entered very easily with these ski. All you have to do is to slightly roll them onto their edges, and use a bit of strength. It is very important that you get the pressure on the ski in he right way, so it would act accordingly. In the case of exerting the wrong pressure on the ski, coming out of the turn may cause problems. It is maybe the biggest 'objection'. The center of gravity has to be precise, because if there are even slight deviations, this ski will throw you in the back seat and burn you, which is definitely a characteristic of slalom skis. However, it is much more accentuated with this model than with some of its rivals.
This ski asks for constant work and concentration throughout the turn, reminding once more that there is a deliberate detachment from recreational class. Once you figure out and tame this ski, it will grant you with extreme pleasure during short turns, even on the most hard packed slopes and on ice, which is probably the most important thing.

This ski acts great in long turns as well. The length of a turn can be easily controlled by exerting the pressure on the ski, which will allow shortening or lengthening of the turns.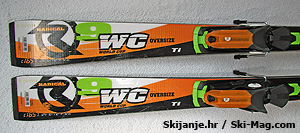 9s proved rather solid in worn out snow and softer bumps. Since we are speaking of a model for hard packed and well groomed slopes, we won't judge it to harshly. However, the sidecut makes clear that the width of this ski's waist is a crucial factor that contributed to such performance, desired by most rivals.
All in all, this is excellent slalom ski intended for excellent skiers. It is a real pleasure to ski on it, but at the same time, it asks for constant work and concentration. Skiers who don't have many ski days or are less familiar with race techniques may be better off with some softer model. On the other hand, excellent skiers and ski instructors could be very satisfied with Rosignol's new model, and enjoy all its benefits, mostly its strength during fast and short turns.
August 11, 2008 13:36h

Author: Vjeran Baranoviæ

Provided by: SVS sport Trzin I.O.C. Blatnica 14 1236 Trzin tel: +386 1 560 50 56
The latest on Ski-mag.com

©
Ski-Mag.com
2003-2014.
ISSN 1845-5891
e-mail:
info@ski-mag.com
Publisher: Ski Club
Hupser
Site by:
Info izlog Ltd.
Number of visits:
57768401
All Rights Reserved. The data is obtained from sources believed to be reliable, but the editors do not guarantee its accuracy, nor they consider themselves responsible for any damages caused by the content on this site.
More...