Equipment ≡ Skis
Elan SLX Waveflex (08/09)
Waveflex, recently the most unusual technological novelty according to many, is more and more present. The reason for this is obvious – positive feedback.
Tested model: 165 cm, r = 12.9m
Sidecut: 116-66-104
Sizes: 150, 155, 160, 165, 170 cm

From next season, Elan's tough slalom model comes in new light. No more monotonous design - this year's SLX got the popular waves. Waveflex, which has over a couple of seasons been implemented into recreational Speedwave models, will from the next season be implemented with Elan's Magfire and race models as well.

Green and black combination of colors hasn't changed, becoming thus Elan's recognizable sign. The ski comes with already well known variant of RS bindings, which have stayed the same - as reliable as ever. The construction is slightly changed. The wooden core (response frame woodcore) stays the same, strengthened with double titanic layers (Dual Ti). The greatest change whwn compared to last season's model are better gripping edges, that is, better resistance to sideway pressure. Already tested RST sidewall, that is present in the World Cup as well, has now been coupled with the Waveflex technology. Owing to its exceptional construction, the ski has great flexion; it is extremely elastic and soft, at the same time having high torsion rigidity.

The interesting fact is that this year's SLX has the similar geometry as the last year's model, except it is 2 mm narrower in the waist. Such dimensions resulted in somewhat bigger radius. Last year's 12m radius of a 165cm ski turned into 12.9m. This detail also guarantees a steady ski.

How does it look like on a trail? We are already used to extreme softness and responsiveness of Elan's race models. Although this is not in the least the same ski that one would find at the FIS competitions, it is the toughest ski on the market. As well as its sibling model GSX, the slalom variant is very elastic and responsive. It is remarkable how Elan's experts manage to find great balance between softness, desired stability and strength.
The impression is that SLX is a softer slalom model. Its main characteristic is calmness when entering a turn, as well when finishing it. Sometimes, there's the impression that the importance is not in speedy, but in extremely precise and smooth turns.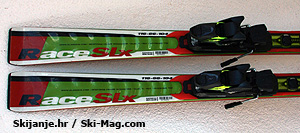 Skiing all day long poses no problem for this ski, and the edges did their work just fine, considering the fact the conditions were far from favorable for testing this part of the ski. The test model, due to its longitudinal softness, properly coped with bumpy terrain and softer snow. The ski was doing well in adopting to all kinds of conditions, although from time to time there was an impression that the nicest skiing ride was the one behind the snowcat.

If we didn't know which ski we tested, we would think it was some tougher allround carving model. Although this does not seem as a compliment at first, it turns out to be one. Clubs, racers, and first-rate skiers craving for speeding and instant turns may be a bit disappointed by the ski's responsiveness, but, such skiers are rare. 90% of great skiers and carvers who are into short turns and fast carving skiing, will be thrilled by this ski. The same goes for ski teachers.
July 13, 2008 23:40h

Author: Goran Raziæ

Provided by: Elan d.d. Begunje 1 4275 Begunje na Gorenjskem Slovenia
The latest on Ski-mag.com

©
Ski-Mag.com
2003-2014.
ISSN 1845-5891
e-mail:
info@ski-mag.com
Publisher: Ski Club
Hupser
Site by:
Info izlog Ltd.
Number of visits:
57753728
All Rights Reserved. The data is obtained from sources believed to be reliable, but the editors do not guarantee its accuracy, nor they consider themselves responsible for any damages caused by the content on this site.
More...