Wednesday, April 23, 2014
Equipment ≡ Skis
Atomic Race SL (09/10)
This model is almost as tough as the toughest D2 model. Their appearance is also very similar, and Race SL has very similar features, but it is noticeably less demanding than its sibling model D2.
Tested model: 163 cm, r = 11.5 m
Sidecut: 124.5-70-109
Sizes: 149, 156, 163, 170 cm

The same as the toughest Atomic D2 SL, Race SL proudly wears so far the biggest Atomic logo seen on the skis from Altenmarkt. Red letters on white background are very noticeable, making the skis very conspicuous, but without being kitschy. Compliments to Atomic's graphics designers. As already mentioned in the review of its sibling D2 model, Atomic stopped using numbers in their nomenclature, and from this year uses only letters. Race SL is thus following the model that is topping the range, at least when it comes to commercial offer. It follows D2 SL model, and is followed by Race ST model, which is the weakest one.
Let's start from the most important. The elasticity of this model has rarely been seen in Atomic skis. Gentle, but at the same time strong blend of elasticity and exceptional maneuverability is best demonstrated when you don't push this ski to its limits. During straightforward ride, or mild and slow turns of moderate and short radii the ski proved very cooperative, and its mass and power don't resist to relatively small forces affecting it.

Unlike the toughest model from the range, race SL won't exert too much aggressiveness and speed; it is much more docile and tame, especially during finishing a turn. However, its edges are as strong as those used with D2 SL model; their quality and resistance are best demonstrated on steep and icy slopes. Speaking of torsion, the ski is very steady, which results in great blend of stability, power and maneuverability, at the same time making the ski very responsive and easy to turn from edge to edge.
The interesting thing worth mentioning is a certain change in the ski's longitudinal stiffness. Compared to older Atomic models of the same class, the new Race SL is softer to a certain extent, which makes skiing on it more enjoyable. However, this fact shouldn't misled the skiers; we are still speaking of a great and very advanced ski for sort turns lover, but which possesses something Atomic skis so far didn't have - elasticity and great maneuverability in a model which won't tire you out or surprise you as you start or finish a turn.

As a real slalom model, Race SL is not fond of soft snow. However, its buoyancy and considerable width of its tip and tail will provide for a nice and enjoyable skiing through clusters of snow, slush, or afternoon bumps. Excellent ski technique is of course prerequisite for the above described ski's performance.


Since Atomic has this year pleasantly surprised us with its reduced mass and greater maneuverability, we tested Race SL in conditions for which it wasn't tailored, which wouldn't even occurred to us with its predecessors. Jumping over the bumps, or backward skiing are quite possible on these skis, primarily due to their increased elasticity.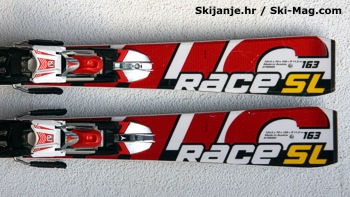 Compared to their competition, Atomic's slalom models are still leading when it comes to stiffness and transferring the vibrations from the surface onto the skier. This should sober all the potential buyers of this model. On the other hand, it is not strange for a ski of such a rank. It could suit skiers who are very skilled in short radius turns and are capable of doing a short turn on any kind of terrain. Plus if they are in very good physical shape, they will be thrilled with this model. As a reward, Atomic Race SL won't punish skiers for every mistake they made.
There is an impression that Elan, Salomon and Rossignol skis are to certain extent softer than Atomic models. However, there have been some changes, and our impression is that the difference in stiffness between Atomic, Fischer and Head has been seriously reduced. This could mean that this season could see Fischer, Head, and even Elan devotees skiing on Atomic and vice versa.
June 28, 2009 19:35h

The latest on Ski-mag.com

©
Ski-Mag.com
2003-2014.
ISSN 1845-5891
e-mail:
info@ski-mag.com
Publisher: Ski Club
Hupser
Site by:
Info izlog Ltd.
Number of visits:
57762123
All Rights Reserved. The data is obtained from sources believed to be reliable, but the editors do not guarantee its accuracy, nor they consider themselves responsible for any damages caused by the content on this site.
More...